Matrix Diagnostics NPS Testing
Matrix Diagnostics is leading the way in testing for so called legal highs or New Psychoactive Substances (NPS) with innovative onsite screening kits and laboratory based testing services. Our aim is to be at the forefront of our industry providing all of the latest NPS detection solutions as well as cutting edge products that our customers have to come to rely on us for.  Please check the Latest Matrix Tests section for all of our new products and services and the latest developments that we have to offer including NPS tests.
Matrix Diagnostics Workplace Drug Alcohol Testing
Matrix Diagnostics can supply you with the necessary primary screening products to carry out your own drug testing with either oral fluid or urine for drug testing or breath alcohol detection devices. We also supply all of the necessary chain of custody kits and laboratory forms necessary to submit samples for confirmatory testing by LCMSMS. Full training is provided. We can provide advice, or assist with your drug and alcohol testing policy.
Alternatively, why not access our nationwide collection network who operate 24/7 to come on site and carry out the testing process for you.
European Workplace Drug Testing Society (EWDTS) guidelines state in the Laboratory Organisation section of their current guidelines that "A Quality Management System of the organization / laboratory is required via accreditation according to EN ISO/IEC 17025 and/or EN ISO 15189 in fields of forensic toxicology and/or workplace drug testing analysis."
Matrix Diagnostics is accredited to ISO17025 by the United Kingdom Accreditation Service (UKAS) for its in-house laboratory services.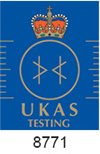 Do you know what you need?
If you know which test kits you require please click the button to the right for the best possible price.